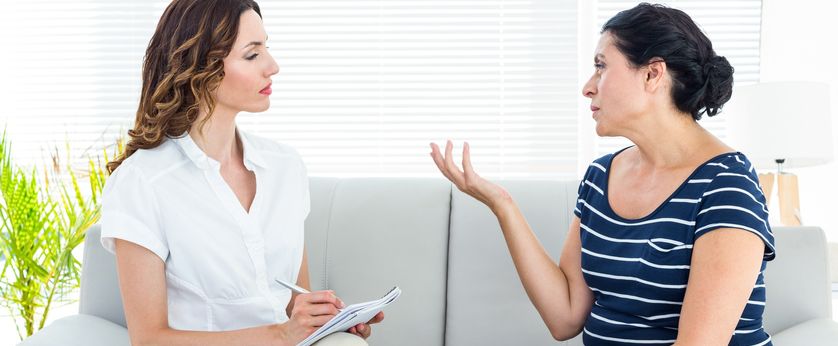 What is Mental Health Counseling?
Updated on Feb 1, 2021
Mental health counseling is a psychology subspecialty in which the professional works with children, adolescents, adults or families to help resolve emotional or behavioral issues. Mental health counseling can include diagnosing, treating and helping prevent mental health disorders, addictions, school, work or relationship problems, or trauma. Typically, mental health counselors work in an office where they see clients throughout the day, although they may also work in nontraditional settings.
<!- mfunc feat_school ->
Featured Programs:
Sponsored School(s)
<!- /mfunc feat_school ->
Mental health counselors approach their practice in a different manner than other health professionals. Instead of relying on traditional medical illness treatments, mental health counselors work with the client to encourage positive life choices and a general wellness model for growth. A mental health counselor makes determinations through interviews, observation and testing to clarify a client's needs.
Clients may be individuals, couples or entire families, as the origins for mental health issues can be environmental, social or family-based in nature. A mental health counselor will often work alongside other professionals, such as marriage and family counselors, school counselors and social workers in aiding the growth and improvement of the patient.
What Does a Mental Health Counselor Do?
The typical day for a mental health counselor often consists of appointments with patients, generally in treatment facilities, homes or hospitals. Evaluating and determining patient risk is a vital component of the job. From there, the counselor must help the patient make healthy life decisions to positively shape their future and improve their existing relationships.
Depending on the nature, position and severity of the patient, it can be important to collaborate with other health professionals. Collaboration ensures more effective treatments for problems such as substance abuse, sex addiction, depression and anger management.
Applying to a Mental Health Counseling Program
Most mental health counseling degree graduate programs require students to have a bachelor's degree in a related field, such as psychology or education. You can boost your acceptance chances by volunteering at a mental health services agency.
Many schools require applicants to submit their GRE and/or MAT test scores. Submitting one or both of these test scores could help you stand out to admissions staff and improve your chance of acceptance, especially to highly competitive programs.
The GRE, or Graduate Record Examination, is a general test taken by prospective graduate students to demonstrate skills like verbal reasoning, quantitative reasoning, and analytical writing. Similarly, the MAT, or Miller Analogies Test, is designed to assess a prospective graduate student's analytical thinking ability.
Note that, due to the Covid-19 pandemic, a large number of US universities have begun temporarily waiving the GRE. Sachin Pullil has compiled a list of top schools and their departments that have chosen to waive the GRE. This list is not comprehensive, so be sure to check with the schools you're planning to apply to.
How Long Does It Take to Become a Mental Health Counselor?
Mental health counselors must earn a bachelor's degree and a master's degree as well as complete 2,000 – 4,000 hours of supervised clinical experience. They must also obtain a license, whether by taking the National Counselor Examination or the National Clinical Mental Health Counseling Examination. Altogether, this process takes about eight to ten years.
An undergraduate degree takes about four years to complete, while master's programs last between one and a half and three years. Working full time, most people complete the supervised clinical experience requirement in around two years.
Lastly, some people need significant time to study for their licensing test. Depending on whether you pass the first time you take it, this final step can take between zero and two years or more.
Career and Earnings Outlook in Mental Health Counseling
As of May 2019, the Bureau of Labor Statistics projected that 283,540 professionals were currently practicing within this industry. Earnings for the group were as follows:
Mental health counselors in the 90th percentile earned an annual salary of $76,080 (or $36.58 per hour).
Mental health counselors in the 50th percentile earned an annual salary of $46,240 (or $22.23 per hour).
Mental health counselors in the 90th percentile earned an annual salary of $29,520 (or $14.19 per hour).
Annual mean wages were highest at $63,740 for those who worked at junior colleges.
Annual mean wages were lowest at $41,400 for those who worked at residential intellectual and developmental disability, mental health, and substance abuse facilities.
Workers at private practices generally earned more than those working at facilities.
What Are the Licensing and Certification Requirements for Mental Health Counselors?
All mental health counselors must be licensed. You can obtain a license by taking the National Counselor Examination, or NCE, and/or the National Clinical Mental Health Counseling Examination, or NCMHCE.
Depending on the state in which you intend to practice, you may be required to obtain other certifications. For example, once you become licensed, you may pursue certification from the National Board of Certified Counselors.
Pursuing additional certifications and specializations in particular niches is not necessarily required, but improves employability. If you're particularly interested in a certain facet of mental health counseling, it's recommended to obtain a certification within that specialty.
What Accreditations Should My Mental Health Counseling Program Have?
The top accreditation for mental health counseling degree programs is the CACREP accreditation. Other graduate degree programs in mental health counseling are accredited by the American Psychological Association.
In general, all graduate degree programs should be accredited by the Higher Learning Commission. There are also several specialized mental health degree accreditors, including the National Association of School Psychologists.
Can I Study for a Mental Health Counseling Degree Online?
There are multiple graduate programs in mental health counseling that allow you to study online. From Pepperdine University's Master's in Clinical Psychology program to Capella University's Master's in Clinical Mental Health Counseling, it's easier than ever to study counseling online at institutions across the country.
Obtaining a Mental Health Counseling Degree
An undergraduate degree in psychology or counseling is a first step, but graduate education is essential. You are required to earn your master's degree in counseling, social work or a similar field. That means earning your MA, MS, or MSW, or attaining a Ph.D. in mental health therapy or clinical or counseling psychology.
Internships and volunteer work at treatment facilities or hospitals are also great resume builders. In all but two states and the District of Columbia, further certification/licensing procedures are required. This includes passing a state or nationally certified licensure exam and completing two years of supervised work as a post-graduate in a clinical setting.
Working within a peaceful environment conducive to professional growth is a perk of the field. Perhaps the greatest benefit, however, is your role in helping individuals, couples and families achieve happiness and peace of mind.
Useful Mental Health Counseling Resources
Browse All Mental Health Counseling Degree Programs