Interview with Salem State College Psychology Student Stacie E. Hebert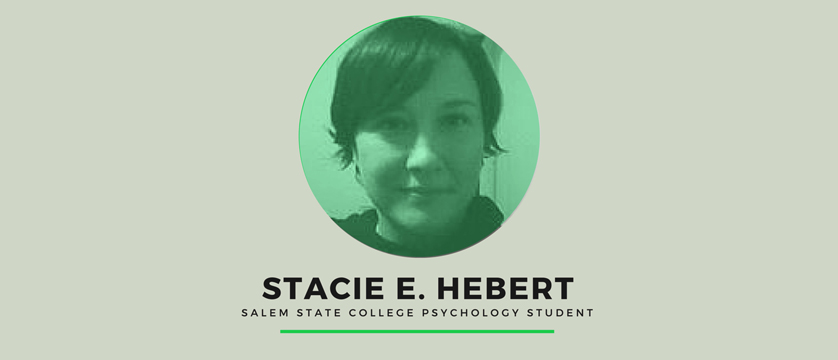 Originally from Louisiana, Stacie E. Hebert is currently a graduate student in the Master's of Social Work (MSW) program at Salem State College, as well as an upcoming presenter at the NASW-MA Symposium.
PsychologyDegreeGuide.org: Thanks for doing an interview with us, Stacie. Could you give us some background about yourself and the program you're in?
Stacie E. Hebert: I am a graduate student in the Master's of Social Work (MSW) program at Salem State College.
While at Harvard, I became a member of Kappa Kappa Gamma, Undergraduate Women in Business and was the Executive Publicity Chair for the nationally recognized fashion show Eleganza.
PDG: Why did you choose to attend Salem State College's social work program?
SEH: I was previously living in Louisiana, and decided I wanted to experience a major change of culture as I attempted graduate work and a change of career. I have not been disappointed, either, with my choice. My personal values and goals seem to have a better "fit" in New England, as compared to the South, where I was born and lived most of my life.
When I decided to move out-of-state, finances became a concern. I compared out-of-state tuition and fees for many states' schools. On the whole, Massachusetts is a state that charges very few out-of-state fees, besides a standard low tuition rate since it is a state school. I have always financed my own education, so how much school costs me has always been a major deciding factor in my school choices.
PDG: What do you like about the program you're in?
SEH: I think the value of the education I receive at SSC is excellent, especially in terms of the quality of the faculty and instruction. I've formed close connections with professors who I've enjoyed learning and working with and have approached them about other projects that we might work on together.
I expect to publish a paper sometime in the next year with one of my professors. I think it's important to know that all we have to do is ask and our teachers are more than happy to continue working with us so that we may learn even more and build networks.
PDG: Based on your experience, what should a student look for when choosing a psychology program?
SEH: I think students should look at the faculty and their interests, so as to get some idea of who you would be working with and learning from. It's common for students to write in their applications that they would like to work specifically with this professor or that, on certain topics of specific interest to the student. It's important to know that what you are interested in studying is indeed a focus of the program you are entering.
Also, it's important to compare curricula between different programs. Make sure the curriculum suits you and your interests. Remember, these are your dollars you're investing in yourself.
Finally, it should be clear to you what type of concentration you want to focus on. In Salem State College's social work program, we can choose between Family/Children, Health/Mental Health, and Older Adults tracks. We somewhat "specialize" in these areas, though we get a great general all-around education that makes us suitable to practice in any area once we are licensed.
PDG: What are you hoping to do with your social work degree?
SEH: One of the things that attracted me to social work was the range of diverse positions and jobs I'll be qualified to work in. Getting generalized and varied experience is also highly valued in social work. One of the worst things I can think of is to get one job and work at it the rest of my working years.
I need stimulation and change, and to feel vital in the work I'm doing, and I believe social work gives me that option to move around often and spread my talents and interests over many work areas. Though I'm learning more about what is possible as I go through my education, at the moment I am focusing on doing research and program development, possibly within the public health arena.
PDG: Do you have any specific clinical and/or research interests?
SEH: My interests are mental health, macro social work (working on behalf of groups, rather than working with a client 1:1), policy development, program evaluation, research, counseling, and community organizing and coalition-building.
I have a blog describing some of my interests, what I'm learning in school, and advocacy and policy efforts and news. Please visit me at https://staciehebert.blogspot.com.
PDG: Have you picked out a Master's thesis topic?
SEH: In the Master's of Social Work program, we are not required to write a thesis, though I have heard of some students who decide to write a thesis as their choice. Instead, we take comprehensive exams after completing all course work and field internships.
PDG: Finally, do you have any publications or presentations to your credit, or any coming out we can look forward to?
SEH: So far, I have a couple and am working on adding more to this list soon!
Presenter on cultural competency learning at NASW-MA Symposium, 2010.
Presenter on cultural competency learning at Graduate Research Day, Salem State College, 2009.