Interview with Boston College Psychology Student Maureen Cary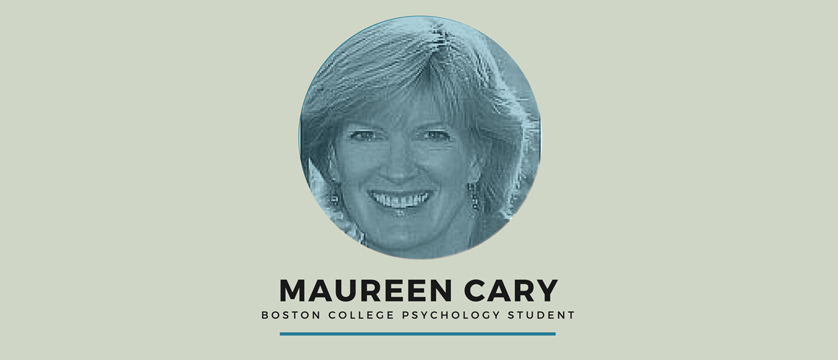 Maureen Cary is a student currently pursuing a Master's Degree in counseling psychology from Boston College's Lynch School of Education. She brings a non-traditional student's perspective to choosing the right psychology program.
PsychologyDegreeGuide.org: Thanks for agreeing to do an interview with Psychology Degree Guide, Maureen. Can you please tell us a little about yourself and the program you're attending?
Maureen Cary: Well, I began my career as a writer and editor. I worked for a few Boston-area newspapers then took a job at Northeastern University as an assistant editor in the school's public information office.
I later worked in marketing communications for several minicomputer companies before becoming a freelance writer. This was ideal for me because I had four young children and could work a very flexible schedule.
During this time, I revisited my long-term interest in social work and psychology by taking a few graduate courses at Boston College. I'm now enrolled in Boston College's Lynch School of Education nearing the end of a master's degree in counseling psychology.
PDG: What made you choose the program at Boston College?
MC: I really liked the different options offered at Boston College. I could choose a school counselor track or choose between two counseling psych tracks: a 48-credit program or the one I selected, a 60-credit program designed for those seeking state licensure.
PDG: What would you say is your favorite thing about Boston College?
MC: For me, the flexibility that Boston College offers a non-traditional student is a huge attraction. I have five years to complete what normally is a two-year program when attending full-time. Only one of my children is in college, so taking a full course load would not work for me.
I also really like Boston College's focus on social justice and the array of internship opportunities for graduate students.
PDG: What are you hoping to do with your counseling psychology degree?
MC: I'd really like to work with children and adolescents in a small mental health facility or in a community hospital. I also would consider working as a school psychologist in an elementary or middle school.
So many issues that we face as adults germinate when we're young. If they are dealt with early, perhaps they won't develop into more difficult issues later in life.
PDG: Do you have any specific clinical or research interests?
MC: The particular issues I'd like to focus on are eating disorders and substance abuse in children and teens. Attendant to this is an interest in family counseling.
PDG: It sounds like the clinical aspect of psychology really interests you. Is Boston College a good fit for you in that sense? Do you have any tips for students to help them determine if a school's psychology programs align with their interests?
MC: What I like about Boston College's program is that it allows students to select among various academic tracks. Those with a clinical interest and focus on working directly with clients; those who prefer a school setting can arrange internships in local school systems.
I think prospective students need to carefully review the material provided by the school and set up and interview—either in person or on the phone—to go over specific questions.
PDG: Any other tips on what do you feel a student should look for when choosing a psychology program?
MC: I think it's important to know whether you want a research-focused program or one that trains students for clinical work. Many large universities have graduate psychology programs that train future researchers or those who want to teach at the college level.
If someone is looking to work in a clinical setting (hospital, community center, private practice) this distinction is really important.
PDG: Now that you're attending Boston College, would you say that the professors are looking for a certain type of student?
MC: The students in my program at Boston College are so varied that I would be hard pressed to "type" them in any way. They represent a variety of nationalities and ethnicities as well educational background.
Many were psychology majors, but there also are many who studied English or History or Biology during college. The diversity is impressive and contributes positively to my experience there.
PDG: Finally, what advice would you give to someone looking to apply to Boston College?
MC: As I was told during the application process, the recommendations are very important, particularly for someone who received an undergraduate degree many years ago.
Besides that, I would tell a prospective student to contact current student and get a feel for what the program is like. The experience of a full-time graduate student is different from that of a part-time student.