Interview with Harvard University Psychology Student Katherine Rollins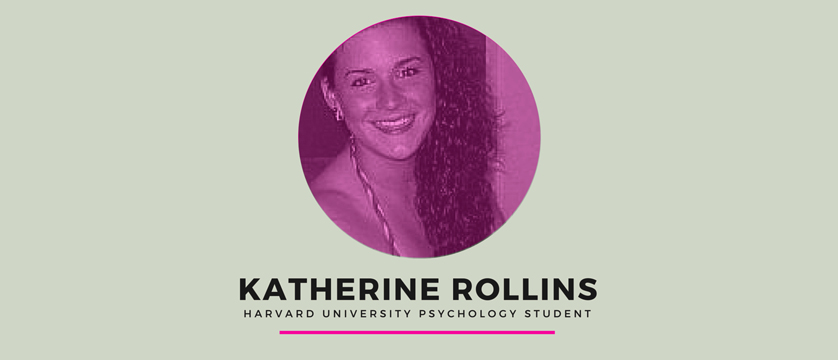 Katherine Rollins is a recent graduate of Harvard University, where she earned a Bachelor's Degree in psychology, as well as winning two Ivy League Championships in basketball. She's currently planning to attend law school in the fall.
PsychologyDegreeGuide.org: Thanks for agreeing to do an interview with us, Katherine. Can you give us a short bio describing yourself and what program you attended?
Katherine Rollins: My name is Katherine Rollins and I graduated with a BA in Psychology from Harvard University. I grew up and went to high school in Augusta, Maine where I was a three-sport athlete and stand-out basketball player. I was awarded Miss Maine Basketball and was recruited to play at Harvard, where we won two Ivy League Championships and made one NCAA Tournament appearance.
While at Harvard, I became a member of Kappa Kappa Gamma, Undergraduate Women in Business and was the Executive Publicity Chair for the nationally recognized fashion show Eleganza.
PDG: What factors played a role in your choosing to attend Harvard?
KR: A large part of my decision to attend Harvard was dependent on getting recruited for a sport. However, the Core Curriculum requirements for Harvard students really appealed to the liberal arts education I was hoping for. Undergraduate degree candidates are required to fulfill a certain number of concentration classes, but also courses in a variety of other subjects like Literature, History, Quantitative Reasoning, Science, Arts and Moral Reasoning.
I believe the Harvard program gives each psychology major a fulfilled, well-rounded education, with the ability to study in fields they can further apply psychology principles to.
PDG: Was there anything in particular that you liked or found useful about Harvard's psychology program?
KR: My high school didn't offer much in terms of psychology courses, so it wasn't until I started college in Cambridge that I seriously considered concentrating in psychology. I thought this might place me at a disadvantage, however I quickly found out that couldn't be farther from the truth.
The thing I enjoyed most about the Psychology department at Harvard was the system in which they require you to complete your degree. There are a wide range of classes you can take in order to fulfill some requirements, while certain ones are non-negotiable and must be completed within certain years.
This arrangement provides you with the freedom to pick courses of your interest (law, developmental, sports, sexuality), while also understanding the fundamentals as a foundation to build on.
I also particularly enjoyed the sophomore tutorial that Harvard requires every psychology student to complete. It is a full year course where you learn to research and write psychology specific articles.
In the end, each student must author a full sophomore thesis on any topic of their choosing. The research and writing process is facilitated by a psychology graduate student and highly supervised. I found this course helped me tremendously in each subsequent course since I had the experience of researching and specific analytical writing skills to guide me.
PDG: What do you feel a student should look for when choosing a psychology program?
KR: I would advise students looking for the right psychology program to talk briefly with students already enrolled to see what the positive aspects are and where the flaws may be.
I think it's very important for professors to be not only knowledgeable and creditable, but also available and effective teachers. The programs that allow the most professor/student interaction seem to be the ones with the happiest students.
I also think students should look at the research facilities and program funding. If the college is a University they will most likely put more money into the clinical research labs and thus provide better opportunities for undergrads in thesis preparation and graduate experience.
PDG: What are you hoping to do with your degree?
KR: Ultimately, I am hoping to further my education and attend law school in the fall. I am looking to simultaneously enroll in a master's program for psychology while getting my JD.
I am hoping to use my psychology degree to become a more effective lawyer and potentially pursue a career in forensic psychology. I am also very interested in studying the dynamics of the couple and family and thus considering becoming a marriage or family therapist later in my career.
PDG: Finally, do you have any clinical and/or research interests you'd like to mention?
KR: My clinical and research interests include social, abnormal and legal psychology, with a specific interest in group conformity, the insanity defense, and false confessions. I am hoping to continue research on the psychology of interrogations and false or repressed memories.