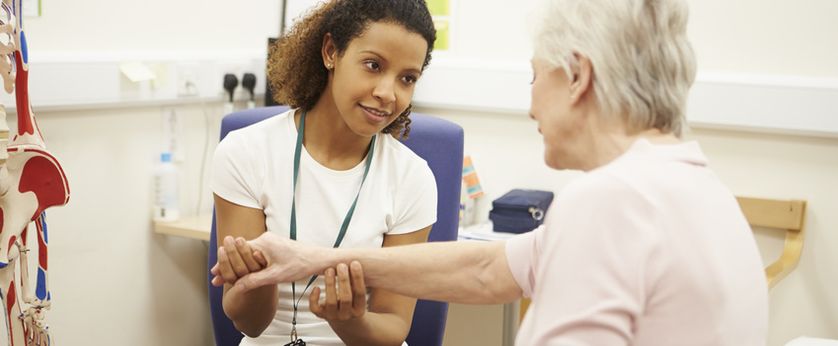 Rehabilitation counseling is a psychology subspecialty that works with people who are coping with the effects of personal, social and vocational effects of disabilities. They may provide a broad range of services, including but not limited to evaluating a client's strengths and weaknesses, providing personal and vocational counseling, offering case management support, and arranging for medical care, vocational training and job placement.
Most professionals within this industry enter into it because they have a genuine interest in helping others. While earnings are respectable for the rehabilitation counselor, primary motivations rest with helping patients dealing with mental, physical, emotional or developmental disabilities.
Rehabilitation counselors aid their patients in finding both personal and professional pathways that lead to independence and personal fulfillment. If you are considering this career you will likely work in a school, college or residential care facility. Drug rehab locations also work with the rehabilitation counselor as do non-profit organizations, businesses, and state or community departments.
What Does a Rehabilitation Counselor Do?
As a rehabilitation counselor, there is no such thing as a "typical day," and that is part of the appeal. At any given time, and depending on your area of specialization, you could be helping the disabled individual or group work past handicaps or aiding businesses in understanding the Americans with Disabilities Act. In some cases you may even help disabled people find gainful employment and create a mutually rewarding experience between patient and employer by working with placement agencies.
Professionals who work in this capacity are referred to as Vocational Rehabilitation Counselors. By helping disabled individuals find and adjust to employment and aiding them to live freely, rehabilitation counselors tear down stereotypes and contribute to society through their clients.
Featured Counseling Programs
<!- mfunc feat_school ->
Featured Programs:
Sponsored School(s)
<!- /mfunc feat_school ->
Careers in Rehabilitation Counseling
According to the Bureau of Labor Statistics the mean annual wage for a rehabilitation counselor is $34,710. Earners in the 90th percentile and beyond typically gross $55,580 annually, or $26.72 per hour. Those in the 10th percentile gross $20,440, or $9.82 per hour.
Rehabilitation counselors who work in state and local government generally bring home more earnings, with reported annual means of $44,190 and $39,590, respectively. Vocational rehabilitation counselors average $31,820 per year.
Obtaining a Rehabilitation Counseling Degree
When researching rehabilitation counseling programs, be aware that education greatly influences earning power. While you can launch your rehabilitation counseling career with just a bachelor's degree in human services, you will want to pursue a master's degree to make a more comfortable living.
After earning a master's in counseling, you may pursue certification or licensure after one year of post-education employment, but you should consult with a career counselor, accredited university, or professional organization in your area to make sure you're meeting all licensing requirements.
Useful Rehabilitation Counseling Resources