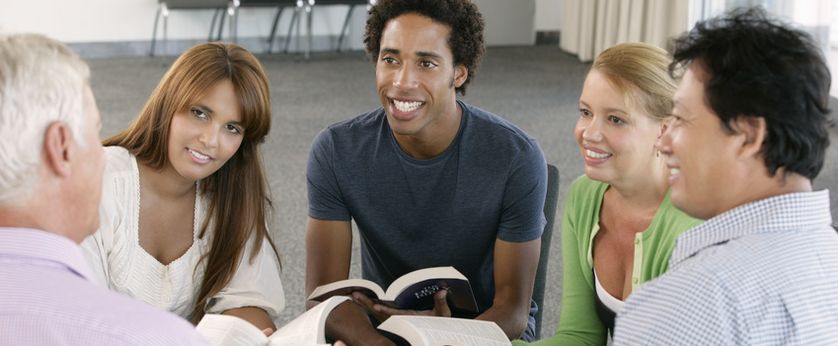 Pastoral counseling refers to the practice of a religiously affiliated counselor providing faith-based therapy to church members, individuals, couples, groups and entire families. A variety of biblical-based counseling principles and strategies are utilized to offer clients positive methods of dealing with life issues. Many ordained ministers often serve as pastoral counselors, but others who are licensed in the field of counseling and therapy may also choose this career path.
What Does a Pastoral Counselor Do?
Pastoral counselors utilize their educational training and the spiritual viewpoints and values of each client in order to provide counseling sessions that offer specific strategies that will successfully address the concerns at hand. As a pastoral counselor, you may work to provide positive conflict resolution, assist in the healing process of emotional issues, help clarify values, encourage purpose in life and provide coping methods that deal with life transitions, serious illness or personal loss. Pastoral counselors may work independently, within a church ministry or function within outreach programs at hospitals, shelters, prisons, college campuses, rehabilitation facilities and military bases.
<!- mfunc feat_school ->
Featured Programs:
Sponsored School(s)
<!- /mfunc feat_school ->
Careers in Pastoral Counseling
If you're a student who plans to pursue a pastoral counseling degree, then you'll enjoy a wonderful selection of excellent careers to choose from after you've graduated. In addition to grief counseling, life coaching and crises response and trauma counseling, these are just two of the most popular careers that are available to pastoral counselors:
Marriage and Family Counselor
This career choice will allow you to offer assistance in all aspects of marriage and family. You may provide premarital counseling, advise those who are considering divorce or help combined families make the transition to a workable full household. Therapy sessions may include entire families, or you may work with couples who are struggling with such issues as problems with intimacy, dealing with a problem child or making the decision to foster or adopt a child. You may expect to earn around $48,000 per year with this career choice.
Addiction and Recovery Counselor
As an addiction and recovery counselor, you can expect to help those who suffer from such conditions as eating disorders, drug addiction, alcoholism, gambling addiction and various other behavioral problems. You'll provide the appropriate counseling and support that will help the client recover from his or her specific addiction and modify any problem behaviors in order to achieve success in their recovery. You'll find work in rehabilitation centers, community health centers and mental health centers, and you can expect to make around $40,000 a year.
Obtaining a Pastoral Counseling Degree
This is an excellent career choice for students who are interested in helping others through counseling and also possess a strong sense of spirituality and faith. If pastoral counseling is the right career choice for you, then you'll first need to obtain a degree in either psychology, counseling, theology, ministry or a related field. Once you've earned your degree, you'll be required to complete a certification process that is available through the American Association of Pastoral Counselors.
Useful Pastoral Counseling Resources
Browse All Pastoral Counseling Degree Programs
We're sorry, there are no schools available for that search
Mishawaka, Indiana
School Type: Private not-for-profit; 4 or more years
Degrees Offered

Bachelor's in Pastoral Counseling and Specialized Ministries, Other
Student Population
1,792
Student:Teacher Ratio
12 to 1
Tuition
$25,480
Acceptance Rate
71%
San Diego, California
School Type: Private not-for-profit; 4 or more years
Degrees Offered

Master's in Pastoral Studies/Counseling - Online
Student Population
166
Student:Teacher Ratio
Not available
Tuition
Not available
Acceptance Rate
Open enrollment
We're sorry, there are no schools available for that search
We're sorry, there are no schools available for that search
We're sorry, there are no schools available for that search
Anaheim, California
School Type: Private not-for-profit; 4 or more years
Degrees Offered

Bachelor's in Pastoral Studies/Counseling - Online
Student Population
476
Student:Teacher Ratio
7 to 1
Tuition
$7,875
Acceptance Rate
Open enrollment
We're sorry, there are no schools available for that search
La Mirada, California
School Type: Private not-for-profit; 4 or more years
Degrees Offered

Certificate in Clinical Pastoral Counseling/Patient Counseling

Master's in Pastoral Studies/Counseling
Student Population
6,522
Student:Teacher Ratio
14 to 1
Tuition
$41,976
Acceptance Rate
70%
Boise, Idaho
School Type: Private not-for-profit; 4 or more years
Degrees Offered

Bachelor's in Pastoral Studies/Counseling

Bachelor's in Pastoral Counseling and Specialized Ministries, Other
Student Population
114
Student:Teacher Ratio
12 to 1
Tuition
$12,270
Acceptance Rate
95%
Chestnut Hill, Massachusetts
School Type: Private not-for-profit; 4 or more years
Degrees Offered

Master's in Pastoral Studies/Counseling
Student Population
15,981
Student:Teacher Ratio
13 to 1
Tuition
$56,780
Acceptance Rate
27%
Mount Vernon, Georgia
School Type: Private not-for-profit; 4 or more years
Degrees Offered

Bachelor's in Pastoral Studies/Counseling
Student Population
1,035
Student:Teacher Ratio
15 to 1
Tuition
$17,000
Acceptance Rate
96%
Provo, Utah
School Type: Private not-for-profit; 4 or more years
Degrees Offered

Master's in Pastoral Counseling and Specialized Ministries, Other
Student Population
39,233
Student:Teacher Ratio
20 to 1
Tuition
$5,790
Acceptance Rate
67%
Fort Worth, Texas
School Type: Private not-for-profit; 4 or more years
Degrees Offered

Doctorate in Pastoral Counseling and Specialized Ministries, Other
Student Population
213
Student:Teacher Ratio
Not available
Tuition
Not available
Acceptance Rate
Open enrollment
We're sorry, there are no schools available for that search
Langhorne, Pennsylvania
School Type: Private not-for-profit; 4 or more years
Degrees Offered

Master's in Pastoral Counseling and Specialized Ministries, Other
Student Population
1,576
Student:Teacher Ratio
11 to 1
Tuition
$28,328
Acceptance Rate
83%
Riverside, California
School Type: Private not-for-profit; 4 or more years
Degrees Offered

Master's in Pastoral Studies/Counseling
Student Population
12,862
Student:Teacher Ratio
14 to 1
Tuition
$32,942
Acceptance Rate
78%
Kansas City, Missouri
School Type: Private not-for-profit; 4 or more years
Degrees Offered

Bachelor's in Pastoral Studies/Counseling - Online

Master's in Pastoral Studies/Counseling - Online
Student Population
314
Student:Teacher Ratio
7 to 1
Tuition
$9,520
Acceptance Rate
100%
We're sorry, there are no schools available for that search
Grand Rapids, Michigan
School Type: Private not-for-profit; 4 or more years
Degrees Offered

Certificate in Pastoral Counseling and Specialized Ministries, Other
Student Population
369
Student:Teacher Ratio
Not available
Tuition
Not available
Acceptance Rate
Open enrollment