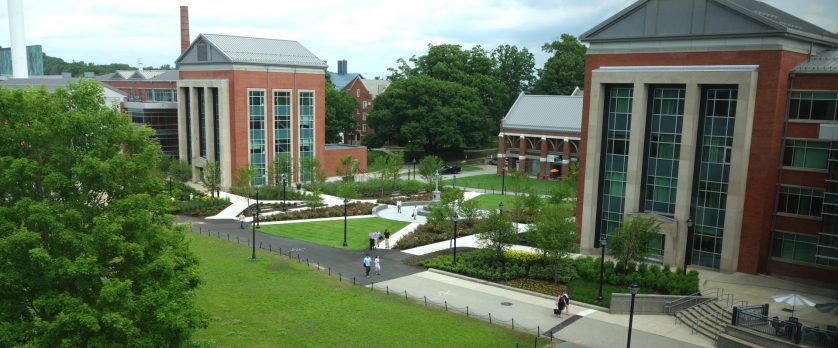 Why Choose to Study Psychology in Connecticut?
Connecticut is home to some of the best colleges and universities in the US, including Yale University and the University of Connecticut, and ranks #10 when it comes to the percentage of students that graduate from a four-year college.
While Connecticut is highly rated for its bachelor's programs, you'll also find excellent schools offering master's and doctoral degrees. In addition, one of the many highlights of choosing a program in Connecticut is the ability for you to work in the field while studying for your degree.
Job Prospects in Connecticut for Psychology Professionals
Many students who choose Connecticut for their psychology degree end up staying after they have graduated. Not only is Connecticut a great place to study, but also a wonderful place to live, with a low crime rate and a strong focus on healthcare.
The Bureau of Labor (BLS) shows the average annual salary for a psychologist in Connecticut in 2020 was $100,470, with an expected job growth rate of around three percent over the next eight years.
If you're leaning towards social work, BLS shows that Connecticut is still the place to earn a higher salary. The average mean salary in 2020 for healthcare social workers in Connecticut was $71,850, well above the national average of $51,760.
In addition, when looking at neighboring states, Connecticut still provides higher salary options. For example, a healthcare social worker in New York can expect to earn $61,510 annually, whil in Pennsylvania they earn $57,400.
<!- mfunc feat_school ->
Featured Programs:
Sponsored School(s)
Sponsored School(s)
All school search, finder, or match results, as well as colleges and universities displayed as "Featured School(s)" or "Sponsored Content" are advertisers that compensate us for placement on this site. The resources, editorial content, and school evaluations published on this site are developed independent of the schools that advertise here.
<!- /mfunc feat_school ->
Connecticut Psychology Licensing and Certification Requirements
Each state requires specific licensing to practice in the state. For example, Connecticut has its own criteria as it wants to ensure that anyone working as a psychologist has a full grasp of disorders and how to diagnose and treat them.
To work with and assess patients as a psychologist in Connecticut, you must have a license. Before you can apply for a license, you must first obtain a doctoral degree and complete a minimum amount of hours in the field. The hours in the field must be face-to-face and require supervision from a licensed psychologist.
You have two years to complete your 1,800 hours of required fieldwork. However, it is possible to finish these hours in less than a year by working 35 hours a week. The hours can be completed before or after earning the doctoral degree, but not while you're in school.
Connecticut does not require different licenses for each specialization, but your fieldwork hours must be reflective of your career goals. In Connecticut, the Board of Examiners of Psychologists oversees psychology licensing. The cost of the license is $565.
After you complete your field hours, you must also take an exam to receive your license. The Examination for Professional Practice in Psychology (EPPP) is given by the Association of State and Provincial Boards (ASPPB). You must score at least a 500 on the exam. This exam has 225 questions covering the areas of assessment, development, and behavior. The cost of the exam is $600.
You can take the exam as many as four times in one year if you do not pass it the first time. Once you pass that exam, you have to take one more. This one is called the Connecticut jurisprudence exam. It is a 25 question exam, and you must answer 18 correctly to pass. It is offered six times during the year.
Once you are granted your license, you need to renew it every year. This includes 10 hours of continuing education. These hours can include training or other coursework. A minimum of two hours of your continuing education must be on coursework or training related to veterans and their families. These topics must include screening for post-traumatic stress disorder (PTSD), depression, and suicide prevention. Any continuing education credits you take must be from accredited organizations or institutions.
Where in Connecticut do You Want to Study?
Connecticut Psychology Resources
Connecticut Psychological Association (CPA) – An advocate for professional psychology in Connecticut. Their mission is to advance psychology as a science and promote human welfare. CPA allows Psychologists in Connecticut to network with each other and give them a space to share their voice while influencing the direction of their field.
Connecticut State Department of Public Health Psychologist Licensure – Provides psychologist's licensing requirements for the state of Connecticut.
Connecticut Department of Public Health (CDPH) – The department that governs all practice licenses, including psychologists, in Connecticut. The CDPH provides valuable information on the license application process to CPE regulations, license renewals, and disciplinary action.
Connecticut Psychiatric Society (CPS) – Fosters the progress and science of psychiatry in cooperation with the American Psychiatric Association (APA). Their goal is to influence high administrative and professional standards. CPS also assists the APA to promote its objectives and mission.
Browse All Psychology Programs in Connecticut
Hamden, Connecticut
School Type: Private not-for-profit; 4 or more years
Degrees Offered

Bachelor's in Psychology, General

Bachelor's in Physiological Psychology/Psychobiology

Bachelor's in Research and Experimental Psychology, Other
Student Population
11,730
Student:Teacher Ratio
14 to 1
Tuition
$46,790
Acceptance Rate
70%
Fairfield, Connecticut
School Type: Private not-for-profit; 4 or more years
Degrees Offered

Bachelor's in Neuroscience

Bachelor's in Psychology, General

Certificate in Psychology, Other

Master's in Psychology, Other - Online
Student Population
10,324
Student:Teacher Ratio
13 to 1
Tuition
$42,800
Acceptance Rate
64%
New Haven, Connecticut
School Type: Public; 4 or more years
Degrees Offered

Bachelor's in Psychology, General

Certificate in Counselor Education/School Counseling and Guidance Services

Certificate in School Psychology

Certificate in Applied Behavior Analysis

Master's in Counselor Education/School Counseling and Guidance Services

Master's in Psychology, General

Master's in School Psychology

Master's in Community Health Services/Liaison/Counseling

Master's in Marriage and Family Therapy/Counseling
Student Population
11,492
Student:Teacher Ratio
14 to 1
Tuition
$16,882
Acceptance Rate
69%
We're sorry, there are no schools available for that search
Norwich, Connecticut
School Type: Public; At least 2 but less than 4 years
Degrees Offered

Associate in Psychology, General

Associate in Psychiatric/Mental Health Services Technician
Student Population
5,307
Student:Teacher Ratio
16 to 1
Tuition
$11,952
Acceptance Rate
Open enrollment
Hartford, Connecticut
School Type: Private not-for-profit; 4 or more years
Degrees Offered

Bachelor's in Neuroscience

Bachelor's in Psychology, General

Master's in Neuroscience
Student Population
2,396
Student:Teacher Ratio
9 to 1
Tuition
$56,380
Acceptance Rate
33%
Farmington, Connecticut
School Type: Public; At least 2 but less than 4 years
Degrees Offered

Associate in Psychology, General

Associate in Substance Abuse/Addiction Counseling

Associate in Psychiatric/Mental Health Services Technician
Student Population
5,777
Student:Teacher Ratio
16 to 1
Tuition
$11,952
Acceptance Rate
Open enrollment
Bridgeport, Connecticut
School Type: Private not-for-profit; 4 or more years
Degrees Offered

Bachelor's in Psychology, General - Online

Certificate in Counselor Education/School Counseling and Guidance Services

Master's in Counselor Education/School Counseling and Guidance Services
Student Population
6,642
Student:Teacher Ratio
16 to 1
Tuition
$31,920
Acceptance Rate
55%
Storrs, Connecticut
School Type: Public; 4 or more years
Degrees Offered

Bachelor's in Psychology, General

Bachelor's in Cognitive Psychology and Psycholinguistics

Certificate in College Student Counseling and Personnel Services

Certificate in Cognitive Psychology and Psycholinguistics

Certificate in Educational Psychology

Certificate in Health/Medical Psychology

Doctorate in Psychology, General

Doctorate in Cognitive Psychology and Psycholinguistics

Doctorate in Developmental and Child Psychology

Doctorate in Experimental Psychology

Doctorate in Personality Psychology

Doctorate in Physiological Psychology/Psychobiology

Doctorate in Social Psychology

Doctorate in Psychometrics and Quantitative Psychology

Doctorate in Educational Psychology

Master's in Psychology, General

Master's in Developmental and Child Psychology

Master's in Experimental Psychology

Master's in Personality Psychology

Master's in Physiological Psychology/Psychobiology

Master's in Social Psychology

Master's in Psychometrics and Quantitative Psychology

Master's in Educational Psychology
Student Population
29,683
Student:Teacher Ratio
16 to 1
Tuition
$36,466
Acceptance Rate
49%
West Hartford, Connecticut
School Type: Private not-for-profit; 4 or more years
Degrees Offered

Bachelor's in Psychology, General

Certificate in Counselor Education/School Counseling and Guidance Services

Certificate in School Psychology

Doctorate in Clinical Psychology

Master's in Counselor Education/School Counseling and Guidance Services

Master's in Neuroscience

Master's in Psychology, General

Master's in Experimental Psychology

Master's in Clinical Psychology

Master's in School Psychology
Student Population
8,861
Student:Teacher Ratio
9 to 1
Tuition
$39,220
Acceptance Rate
76%
West Haven, Connecticut
School Type: Private not-for-profit; 4 or more years
Degrees Offered

Bachelor's in Psychology, General

Certificate in Community Psychology

Certificate in Forensic Psychology

Certificate in Psychology, Other

Master's in Community Psychology

Master's in Industrial and Organizational Psychology
Student Population
7,634
Student:Teacher Ratio
16 to 1
Tuition
$39,000
Acceptance Rate
83%
West Hartford, Connecticut
School Type: Private not-for-profit; 4 or more years
Degrees Offered

Bachelor's in Psychology, General

Master's in Counselor Education/School Counseling and Guidance Services

Master's in Counseling Psychology

Master's in Applied Behavior Analysis

Master's in Marriage and Family Therapy/Counseling
Student Population
2,907
Student:Teacher Ratio
8 to 1
Tuition
$38,482
Acceptance Rate
77%
Middletown, Connecticut
School Type: Private not-for-profit; 4 or more years
Degrees Offered

Bachelor's in Psychology, General

Bachelor's in Physiological Psychology/Psychobiology

Master's in Psychology, General

Master's in Physiological Psychology/Psychobiology
Student Population
3,524
Student:Teacher Ratio
8 to 1
Tuition
$56,704
Acceptance Rate
16%
Danbury, Connecticut
School Type: Public; 4 or more years
Degrees Offered

Bachelor's in Psychology, General

Bachelor's in Community Health Services/Liaison/Counseling

Certificate in Applied Behavior Analysis

Master's in Counselor Education/School Counseling and Guidance Services

Master's in Applied Behavior Analysis
Student Population
6,535
Student:Teacher Ratio
13 to 1
Tuition
$17,726
Acceptance Rate
76%
New Haven, Connecticut
School Type: Private not-for-profit; 4 or more years
Degrees Offered

Bachelor's in Neuroscience

Bachelor's in Cognitive Science

Bachelor's in Experimental Psychology

Certificate in Neuroscience

Certificate in Experimental Psychology

Doctorate in Neuroscience

Doctorate in Experimental Psychology

Master's in Neuroscience

Master's in Experimental Psychology
Student Population
14,389
Student:Teacher Ratio
6 to 1
Tuition
$55,500
Acceptance Rate
6%