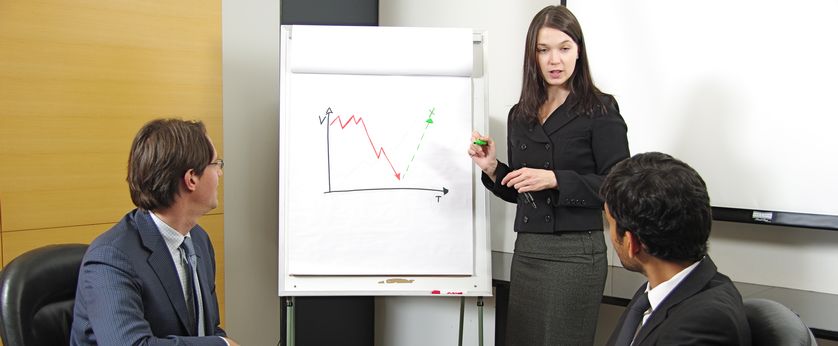 Industrial-Organizational psychology is a psychology subspecialty that addresses the psychological study of the workplace. Job functions can include promoting productive worker attitudes, establishing affirmative action policies, implementing performance appraisals or assisting with leadership training or organization development.
The industrial-organizational psychologist understands the importance of corporate culture and how it can improve or detract from job performance. While smaller businesses in sparsely populated areas are not as quick to use their services, these professionals can find a lucrative and rewarding career in metropolitan areas.
George Mason's online Master of Professional Studies in Applied Industrial and Organizational Psychology delivers the research-backed methods and understanding of data and analytics HR professionals need to foster a culture of innovation — where each employee feels empowered and motivated to contribute new ideas, effect change, and do their best work every day. You learn how to consistently hire candidates who are the right fit for the company, identify employees' individual motivations, establish meaningful evaluations and reward systems, and improve training and performance programs.
What Does an Industrial-Organizational Psychologist Do?
The ways in which an industrial-organizational psychologist may help an organization vary. From job analysis to recruiting, performance evaluation, and goal-setting, these professionals are indispensable the larger an organization becomes. Employee personalities play a huge role in the success of a business, and the I/O psychologist gives a manager the tools needed to enact proper changes to the working environment.
With an industrial-organizational psychology degree, you can expect to assimilate your knowledge and skills to the nature and environment of the business. It doesn't matter which industry the company is in, it can benefit from the knowledge and expertise of an industrial-organizational psychology professional, but only if the professional takes the time to apply their training to the personality types and the nature of the work performed. Specialization is important.
Featured Psychology Programs
Careers in Industrial-Organizational Psychology
Careers in industrial-organizational psychology may include help in human resources or private consulting. Since companies are not forced to pay ongoing benefits, many are more willing to hire on a consultation basis. While this may not give you the security of a full-time position, pay can be considerably more substantial, and companies are often more inclined to keep one on as retainer, since turnover is a reality of every business, small or large.
The industrial-organizational professional can achieve significant cost-saving for a company because losing an employee is typically very expensive. Retention is what every business is shooting for, and as someone trained in the art of employee mindsets and culture, an industrial-organizational professional can give the company just what it is asking for.
Obtaining an Industrial-Organizational Psychology Degree
Many schools across the country have degree specializations for this particular career path. A Doctor of Philosophy or Psychology distinction is generally awarded to the industrial-organizational psychology degree student.
Most employers will want a Ph.D before they agree to do business with an I/O professional, because they want to make sure they're dealing with an expert in the field. Some states may require additional licensing exams in addition to a doctorate degree. Check the professional licensing requirements in your area before marketing your services.
Useful Industrial-Organizational Psychology Resources
Browse All Industrial-Organizational Psychology Programs